Transitions and Loss
You may be in a very raw place having said goodbye to one aspect of your life, not sure how the next phase will emerge. You may be feeling "in between;" the old rules of life not working and new ways of coping not yet in place.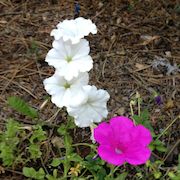 Perhaps you have lost a loved one, or been through a divorce. You may be struggling with the decision of whether or not to stay in a relationship. A job change might be something you are contemplating. Undergoing these kinds life changes can be destabilizing and filled with uncertainty and anxiety.
Please know that the "in between space" (often called liminal space) is full of possibility and promise. Having a place to experience feelings around the loss or change can be very helpful.
You will not only survive your loss but come through with a deepened awareness of your strengths. My goal is to assist you in realizing you have the resilience you need and that you can trust yourself to meet whatever challenges are before you.
A metaphor for transitions for me is how a butterfly comes into fruition. A caterpillar undergoes a rigorous process of turmoil and change. And a glorious butterfly is the outcome of this harsh and rugged transformational experience.
Incredible hardship and deep suffering can transmute into a discovery of a part of you that is whole. Not perfect, but whole. I would love to be a part of your healing journey.